---
Introducing Dashboard
As a business owner, you're likely busy. You have to hire the right people, and manage and pay them; you have inventory to take, orders to make, and bills to pay. When it comes to marketing, getting access to the results can help you make smarter business decisions and be more efficient with your spend (both time and money!).
We've added Dashboard to your Business Page experience – to enable you to quickly and easily evaluate your business performance on Nextdoor.
How to Use Dashboard
From your business account, navigate to the Dashboard tab. Here you'll see the Overview of your efforts: a snapshot of your recent Business Posts and Local Deals, or your Neighborhood Sponsorship. Specifically you'll see how many total views and actions have been taken on your content over the last 7 or 28 day timeframes, and can quickly compare your recent Local Deals or Posts to see which performed best. Easily re-run your best performing Deal with the click of a button.
Toggle to "Your Stats" to get a more detailed view of your performance. Here you'll be able to see how your content has performed over time, as well as which neighborhoods engaged most with your content. See a breakdown of your total actions and views by day. Dig in deeper into any one of your Local Deals or Posts to see specific performance data on that piece of content, including the neighborhoods where it performed best. Click into any of your top neighborhoods to see high-level demographics such as population, average age, and neighborhood interests.
Make Business Decisions Using Dashboard
Since Dashboard enables you to view the performance metrics of your Local Deals and Business Posts all in one place, you'll be able to see which content received the most engagement from your audience.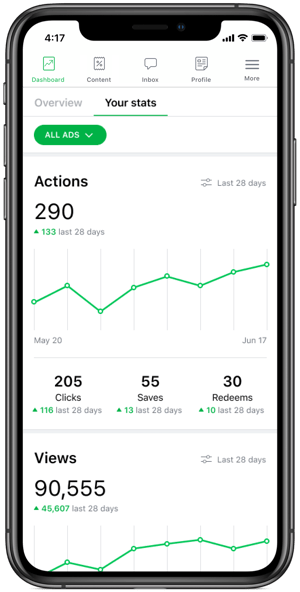 Did a Local Deal offering a buy-one-get-one deal get the most clicks? Consider running another similar deal. Or, did your Business Post that asked about which new menu items customers would like to see get a lot of clicks or responses? Now you know that your customers like being asked for their opinion – and they like sharing! Keep this in mind when you need feedback about your business. As a Neighborhood Sponsor, did you see high engagement with polls? Continue running interesting polls regularly to ensure lots of neighbors see your name.
You'll also be able to note during which days of the week your content was engaged with most. When planning your future posts or Local Deals, continue to post on those days to maximize your engagement – and the number of people who see your business name.
Continue to Measure Your Performance
As you continue to post new content – through Business Posts, Local Deals, or your Neighborhood Sponsorship – check in on the performance of your efforts so you have a clear understanding of what best resonates with your neighbors.
We'll be making regular updates to your Dashboard over the coming months, including adding additional information about your Business Page performance and tailored tips to help you improve your performance on Nextdoor.
Don't yet see Dashboard in your Business Page experience? Dashboard will be released nationwide in July.
---
Claim your free Business Page to get started on Nextdoor. For resources on how to use Nextdoor to stay connected with your local customers, pertinent news affecting businesses, and more, follow us at @NextdoorBusiness on Facebook.