---
With Business Posts, small businesses on Nextdoor can get the word out to their neighborhood, stay in touch with local customers, and keep them up to date on business ongoings.
The opportunities are endless when it comes to posting to your local newsfeed. If you are a small business owner, you may be wondering both what to share with your community, and how to make your posts interesting and engaging for neighbors.
Here are 5 data-backed best practices to help your posts perform at their best. Well-crafted posts that receive higher engagement behoove more engagement; when neighbors react or reply to your post, your post is bumped up in the newsfeed for even more neighbors to see.
To get started, first claim your free Nextdoor Business Page. Then, navigate to the Content section and read on for tips to help you create your best post:
1. Get (at least) 5 recommendations.
Nextdoor Business Pages with 5 or more recommendations have 30% higher engagement (more views, reactions, and replies).
2. Post between the hours of 5-7pm.
Businesses that post between their local hours of 5-7pm, tend to see higher engagement rates than posts made at different times.
3. Plan to post on Thursdays and Fridays.
Posts later in the week tend to see higher engagement rates than those made earlier in the week or on the weekend.
4. Post every other week.
Post engagement generally declines after about two weeks. To stay top-of-mind with neighbors, aim to share a new post every two weeks.
5. Add photos that best represent your business.
Business Pages with a profile photo and photos in their "photos" section are the most visited. More neighbors visiting your page means more neighbors on your posts.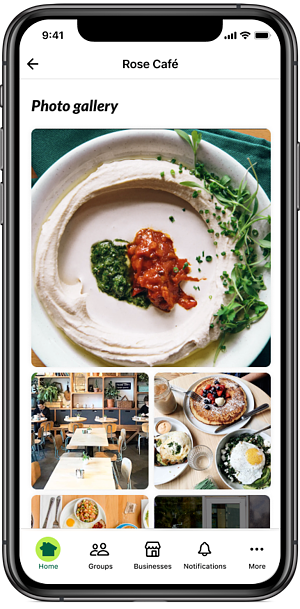 Include photos on your Business Page to increase engagement.
Additional tips:
Include a photo with your post:

Posts that include high-quality photos are more visually-appealing and can grab the attention of readers better than those without, encouraging neighbors to stop and spend a moment reading your post. Make sure your photo is clear and relevant to whatever you post.

Need some inspiration about what content to post? We have you covered with examples from businesses like yours:
Regardless of what frequency you choose to post to your neighborhood's newsfeed, make sure to infuse these best practices into your strategy in order to maximize the engagement on your posts and increase the likelihood of more neighbors seeing what you have to say.
---
Claim your free Business Page to get started on Nextdoor. For resources on how to use Nextdoor to stay connected with your local customers, pertinent news affecting businesses, and more, follow us at @nextdoorbusiness on Facebook.