---
This article was updated on July 26, 2023.
On Nextdoor, neighbors are constantly seeking recommendations and advice for local businesses and service providers. Local businesses are a key part of the community, and on Nextdoor they become neighbors by building their local reputation.
Business Pages on Nextdoor are ideal for businesses that are truly local. Whether you are selling goods or providing services – for example, a business in the food and entertainment space, a home and garden store, a pet service provider, a shop, a professional services consultant, a personal care enthusiast, or a wellness guru – you should claim your free Business Page. Having a presence on Nextdoor allows neighbors to easily discover you and is a required first step to engaging neighbors through direct messages, posts, or ads.
Follow these steps to get started as a business on Nextdoor:
As an owner, employee, or other authorized representative of the business, you'll want to first claim your free Nextdoor Business Page. You can do this one of two ways:
If you already have a Nextdoor neighbor account, you can add your Business Page to this account, which will allow you to easily toggle between your neighbor and business experience with only one account login. Log in to Nextdoor via the website or app, and then click on your neighbor profile photo. From there, click "Add Business Page".
Alternatively, if you prefer to keep your neighbor account separate or simply want to join Nextdoor as a business only, you can create a business account at

nextdoor.com/business

.
Pro Tip:

To get the most out of Nextdoor, we recommend joining as a neighbor. This will help you understand what topics are relevant on Nextdoor so you can then create content as a business that resonates. It will also help you understand how your business shows up to neighbors.
If you plan to have multiple people help manage your business presence, and would therefore prefer to keep your neighbor and business accounts separate, you can create a separate business account using a different email from your neighbor account.
Setting up your Business Page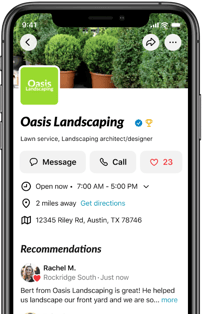 Once your Nextdoor Business Page is claimed, navigate to the Page tab and click Edit. This is where you'll set up your page with information about your business.
Add a logo and cover photo
Your business logo shows up everywhere you show up on Nextdoor and is proven to generate 7X as many views compared to pages with no logo. Don't worry if you don't have an official business logo. A photo of yourself, your business products or services, or storefront work as well.
We also recommend adding a cover photo to make your page more visual. This can be a photo of your employees or customers, your place of business, or your products or finished work. Avoid using a business card or photos with text, as these don't show up well.
Update your business info
As part of the page claim process, you will have already added your business name, location, and contact information. Take a moment to ensure everything is accurate so that neighbors know how to get in touch. If you'd like to display your address on your public page, check the box "Show above address in contact information." Conversely, if you'd prefer to keep your address hidden (if you work out of your home, for example), keep this box unchecked. If you're a licensed service provider, we recommend including your license number to add that extra layer of trust that neighbors seek.
Add categories that describe your business
Category tags help us know when to surface your business in search results, and in some cases may give you access to different features. Add up to 10 relevant categories. If you do not see a category that matches your business, we recommend picking the closest option. You can further specify your offerings in the Story section of your page.
Share your story
Community connection is key to the Nextdoor experience. Help neighbors connect to you by sharing the story of how you got started and highlighting anything that sets you apart. 55% of consumers who love a brand's story are more likely to make a purchase in the future (Headstream Brand Storytelling Report).
Bring your business to life with photos
Your photo gallery is an opportunity to show rather than tell. Highlight your products and services, past work, your team, your place of business, or your customers. Business Pages with a photo gallery generate 2.6X as many views as pages without.
Spreading the word
Congrats – your page looks great! Now it's time to let people know they can now find you on Nextdoor. From the Page tab, click on the arrow icon to copy your unique page link. Then, share your page on your other social media channels, link to it from your website, and share it with past customers to ask for a recommendation. Pages with recommendations have up to 19X the page views compared to pages without and 72% of neighbors have been influenced by a business recommendation.
What's next?
With your Nextdoor presence all set up, it's time to start engaging with neighbors. Use free Business Posts to introduce yourself to the neighborhood. With a free post, you'll instantly reach all neighbors within two miles of your business and can post twice per month. Note: You must be verified to use Business Posts.
If you're looking for greater reach, check out Nextdoor Ads. With a paid ad, you can target neighbors up to 30 miles from your business. To get started, you'll choose one of three goals: Increase website visits, Promote a sale or discount, or Get more messages. Running an ad is a great way to drive more traffic to your page. Simply select "Increase website visits" as your goal and add your unique Business Page link to the URL field. When neighbors see your ad, they'll be prompted to click through to your page.

Have more questions about setting up your Business Page? Check out our FAQ.
All kinds of businesses use Nextdoor to grow and reach their neighbors.
Skin By Lexie is one of those businesses. When she started out in 2020 she had 50 clients - now she has 900.