---
Making the most of advertising your small business on Nextdoor is more than just creating and publishing an ad. It's also important to track and monitor your ad's performance once it's live. Doing so not only gives you insight into what's working and what isn't but keeping tabs on your ad's performance will also inform whether you are spending your marketing dollars effectively.
So how do you know if your ad is performing well on Nextdoor? Here's how to tell.


Getting to your dashboard
To track the success of your Nextdoor Ad, head to your dashboard. If you're using the Nextdoor app, head to the "Ads" tab then select "Manage ads." If you're on a computer, click on "Manage ads" in the navigation bar.


Ads dashboard: your high-level summary
Once you've navigated to your ads dashboard, the primary view will display high-level summary metrics for all ads you have running. You can adjust the view of the metrics from "last 7 days" to today, yesterday, or the last 30 days. Select one of the listed metrics (impressions, clicks) to change the view of the line graph.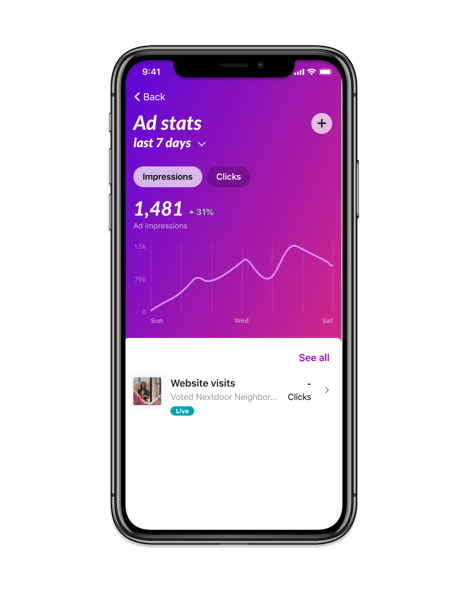 Ads dashboard: your individual ad's summary
If you're interested in a more in-depth view of a particular ad's performance, select the ad from the list of your ads. This will bring you to a performance dashboard specific to just this ad. You'll see metrics such as the number of impressions on your ad, the number of clicks, and/or the click-through rate, which is the number of clicks divided by impressions times 100. Similar to the high-level summary, you can change the view of this dashboard from the last 7 days to today, yesterday, or the last 30 days.
Editing your ad
This detailed view of your ad's performance is also where you can edit your ad. This includes:
Making changes to the content of the ad
Changing the call-to-action
Updating your target audience and/or your budget
Editing your ad is an opportunity to test what's effective. For example, you may want to try different call-to-actions (CTAs) or different photos to see what helps increase your clicks, website visits, or messages.
NOTE: If you do edit the content of the ad, it will go back into a short review period before going live again.
You can also choose to pause your ad by turning the toggle shown under "Status" to "Paused". At any point, you can come back to this view and toggle the switch to "Live." This will turn your ad back on.
Metrics glossary
If you're unfamiliar with the metrics provided on your dashboard, refer to the glossary below to learn what each term means and the kinds of insights they provide.
Impressions: The number of times your ad was seen. For example, if one neighbor sees your ad five times, your impression accounts for the five views.
People reached: Unlike impressions, reach is the unique number of neighbors who saw your ad. Even if a neighbor saw your ad five times, it still only reached one person.
Clicks: The number of times a neighbor clicked on your ad. This shows that your ad was interesting enough for a neighbor to take action.
Click-through rate: As mentioned earlier, your click-through rate is the number of clicks your ad received, divided by impressions, times 100. Your click-through rate will give you an idea of how effective your ad is at converting, each time it's seen. The higher your click-through rate, the more likely your ad is resonating with those you are targeting.
Messages: The number of direct messages you received as a result of your ad.
Ready to start growing your small business by reaching nearby customers? Claim your Business Page and create a Nextdoor Ad today.