---
This is a contributed article from Constance Brinkley-Badgett, a financial journalist with more than 20 years experience editing and writing for a variety of publications. She worked as a senior digital producer for CNBC, a digital producer for NBC Nightly News and her work has been featured on MSN Money, Yahoo Finance, USA Today, Market Watch and numerous other outlets.
When the residents of Austin, Texas were ordered to shelter in place on March 24th, Rachel Lily Campbell knew she'd have to suspend her fitness classes. The franchisee and trainer at Fit4Mom also knew she'd have to pivot quickly to keep the money coming in for herself and 12 employees.
Campbell and her trainers, who offer workout sessions outdoors instead of in a physical studio, had been creating YouTube videos and other virtual fitness options for a few years, but now it was a necessity. Their Zoom classes (including strength training, cardio, Barre, and HIIT) quickly became a hit. In fact, Campbell said she's seen an increase in class attendance (as many as 50 people, up from a typical 15-20), especially in the evenings.
Campbell is among the fortunate. Because she doesn't have a brick-and-mortar location, rent and utility payments weren't a concern. Virtual classes have had the added bonus of taking weather out of the equation for Fit4Mom's outdoor classes. And she hasn't needed to change her pricing. It's still between $75 and $100 per month.
Not everyone has been so fortunate.
Nationwide, gyms especially are hurting. This is why they've lobbied hard to be allowed to reopen. National chain 24 Hour Fitness is considering bankruptcy, and Soul Cycle is selling their bikes for $2,500 in order to stay competitive with rival Peloton. Even fitness instructors who had a small online following say it's been challenging to make ends meet. Free workouts offered by influencers and celebrities are undercutting their paid model.
Those with digital footprints are finding their way.
There's a definite trend in how fitness experts are faring. Those with a digital presence prior to COVID-19 are doing OK in many cases, and some are seeing their business grow. That's the case for celebrity trainer Holly Rilinger, a Nike Master Trainer, former WNBA basketball player, and the creator of LIFTED.
"I had a remote program that averaged 10-15 people per month, now I'm averaging 70-80 people," Rilinger said in an email.
Before the pandemic, Rilinger taught five live classes per week.
"Luckily, I was shifting my focus to remote, so I was prepared for a swift pivot," she said. "I had the programming in place and had been using Zoom for my LIFTED program for over a year. I wasn't, however, offering live [streaming] classes at the time, only coaching calls with a program clients completed on their own at a gym. Since gyms are closed, I changed the model to live workout classes with me at the helm. It's been the perfect shift."
Is it too late for businesses without virtual classes to catch up?
So what should you do if you haven't been able to offer virtual classes? Or if you do and they aren't having the impact you had hoped? Campbell suggests letting your clients guide you.
Listen to what they say – even on social media. "Send out surveys," Campbell said. (You can see how Campbell handles her social accounts here and here, and Rilinger here). Figuring out what your clients' needs are and how you can meet them is key.
"It may not be virtual livestreams. It might be … weekly workouts in an email format, or touch bases or pre-recorded videos," she said. "As business owners, our success is dependent on meeting the needs of our clients."
The National Academy of Sports Medicine offers a guide for training clients virtually. Of course, how to shift back to a normal business model when your state reopens may be the biggest challenge of all. There are some helpful guidelines for general business purposes.
Will virtual classes become the new normal?
As for continuing remote classes, "the virtual modality is here to stay," Campbell said. "The overwhelming response from our clients has been 'everything else has changed, but this has been the same still,' and they've really appreciated that. I think many of them will continue with virtual classes even after this is over."
Rilinger agrees.
"People are busy, and having access to classes at home both live and on-demand is appealing. I'm not sure people will feel comfortable going back into sweaty, germ-filled studios for a long time," she said.
Best of all, working exclusively through virtual classes has allowed Rilinger the ability to work remotely. Very remotely. Just before the pandemic hit New York City, she moved temporarily to the Dominican Republic where her parents have lived for the last 10 years. She's been streaming her classes from a palapa (a thatched-roof hut) in her backyard.
"I have a beautiful jungle backdrop, peacocks, and birds chirping about and the sound of the ocean in the distance. You better believe I'm having fun doing this," she said. "I get to share a little piece of heaven with everyone stuck at home while I build a streaming business in between surf sessions. Talk about a silver lining!"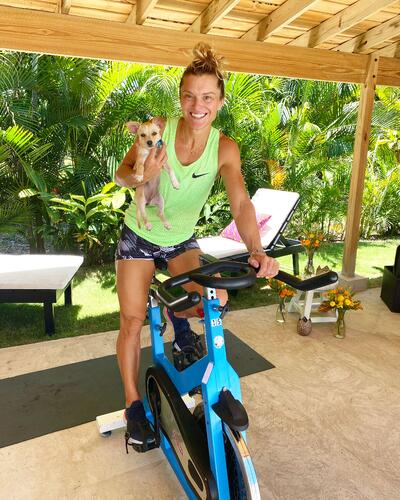 Holly Rilinger leads virtual fitness classes from her parents' home in the Dominican Republic.
---
Read additional resources from other industry experts, like How My Local Fitness Studio is Preparing for the New Normal. For more resources to help your business during coronavirus, visit our Small Business Guide for Coronavirus Relief.