---
Recommendations are a powerful tool when it comes to growing your small business. Not only do they help other customers get to know your products or services, but recommendations also act as word-of-mouth referrals and build your small business' reputation.
On Nextdoor, recommendations are especially effective as neighbors are continuously seeking to know what businesses are top of mind and recommended by others in their community. In fact, new Nextdoor data reveals how important recommendations are when neighbors make purchasing decisions.
Read on to learn what this means for your small business and the steps you can take to make recommendations work for you.


Recommendations highly impact purchasing decisions
Recommendations influence Nextdoor neighbors purchasing decisions. In fact:
96% of neighbors have seen a business recommendation on Nextdoor
72% have been influenced by a recommendation
71% have shared a business recommendation


What this means for your business and next steps
When considering new businesses to buy from, neighbors on Nextdoor are looking at recommendations to make their decisions. Not only that, they are actively sharing recommendations for businesses they've had positive experiences with.
Along with the ability to impact a potential customer's purchasing decision, businesses with recommendations are also more visible on Nextdoor. In fact, Business Pages with recommendations have up to 19X the page views compared to pages without. If you are not taking advantage of your business recommendations on Nextdoor, now is the time to do so.
Here are a few ways you can start gathering more recommendations:
Share your Business Page link with customers after each job or transaction and ask them to leave you a recommendation
Share your Business Page on your social media platforms and other marketing materials with a note asking customers to leave a recommendation
Ask for recommendations using your free Nextdoor Business Posts
Ask customers to share your Business Page on their personal social media sites
If you're looking for more inspiration, check out our Small Business Guide to Nextdoor Recommendations. This guide will provide you with tips on how to ask for recommendations, messaging you can adapt for your different marketing channels and downloadable images to accompany it.
Neighbors value recommendations for products and services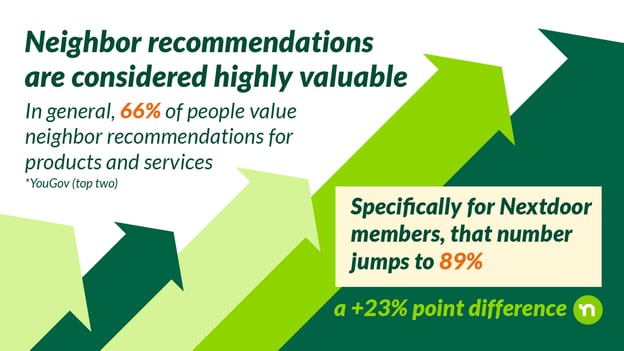 While generally, 66% of people value neighbor recommendations for products and services, on Nextdoor, that percentage jumps to 89%.
Our data also reveals that businesses in the Food & Drink categories see the most influential recommendations on Nextdoor while the Home & Garden category has the most recommendations shared.


What this means for your business and next steps
The Nextdoor audience is already highly motivated to support small businesses and look to Nextdoor for word-of-mouth recommendations. Make sure your business stands out.
Once you've taken the steps to gather recommendations on your Business Page, use your free Business Posts to get the word out and start building relationships with customers nearby.
Take some of those recommendations and use them in the content of your posts. For example, if a customer wrote about a positive experience with your staff, take what they wrote and share it in a post. Along with their recommendation, thank them for their kind message, and invite others who have had a positive experience with your business to leave you a recommendation as well.
Remember, the key to successful Business Posts is to be neighborly, focus on your local proximity, and be useful.
Looking for more inspiration on how to use Business Posts? Learn about 8 ways to use Business Posts to drive engagement.


Distance is key

Neighbors look at distance when deciding to choose a business. 74% of the general population will travel within 10 miles to make purchases. On Nextdoor, that percentage jumps to 84%.


What this means for your business and next steps
Neighbors often come to Nextdoor when they're ready to make a purchase or hire for a service. Use proximity to your advantage. Consider sharing a Nextdoor Ad to get more eyes on your business and grow your business locally.
Nextdoor Ads makes it easy to reach your unique business goals in five simple steps. Choose from the following goals:
Increase traffic to your website of Business Page
Promote a sale or discount
Get more messages from leads
No matter the goal you choose, we'll provide you with important insights and metrics so you can track success as you go.


Get the latest Nextdoor Insights at-a-glance


With these latest insights, we know that there is power behind neighbor recommendations. This word-of-mouth marketing is an effective and free tool to help you grow your business. Make sure you are taking advantage of it. If you're ready to take the next step, start by claiming your free Business Page.