---
Where Members Can See Local Deals from Businesses on Nextdoor
If you're a local business owner, marketing is critical to grow your business, but it can be hard to find the time to be effective and strategic with everything else you have to do to run the day-to-day. With Nextdoor Local Deals, we make it easy: you create the deal (just follow these three easy steps to get started), and we do the rest of the marketing for you. Nextdoor members can discover your business while receiving access to special discounts and promotions. It's a win-win for everyone.
Once your Local Deal is posted, we make sure it gets seen by Nextdoor neighbors, your customers, that live closest to your business:
In the Local Deals section. Neighbors in your selected neighborhoods can view your deal in the Local Deals section, where they can also choose to save it. We'll send helpful reminder emails to members who have saved your deal but haven't redeemed it yet.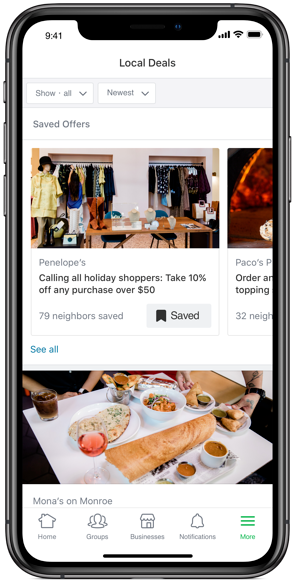 In the neighborhood Newsfeed. Your deal will show up in neighbors' Newsfeeds. The Newsfeed is the first place neighbors see when they log into Nextdoor.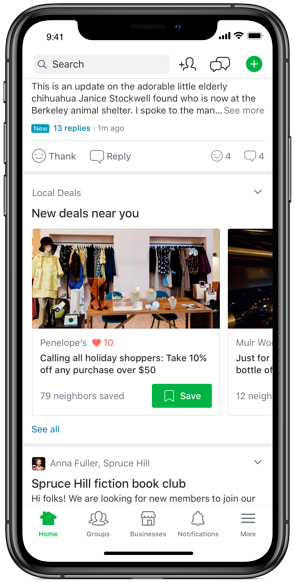 In the Digest email. Local Deals are featured in the Digest emails that members receive throughout the week.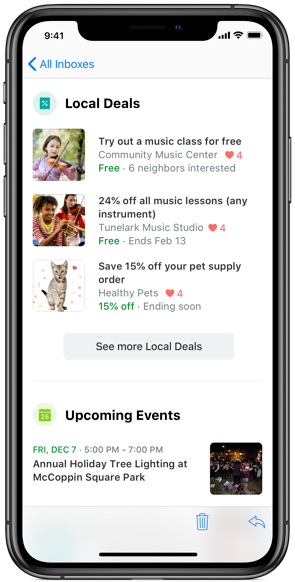 On your Business Page. Neighbors of the neighborhoods you targeted with your deal will see your Local Deal on your Business Page, the place where your customer recommendations and contact information live.
In the Businesses section.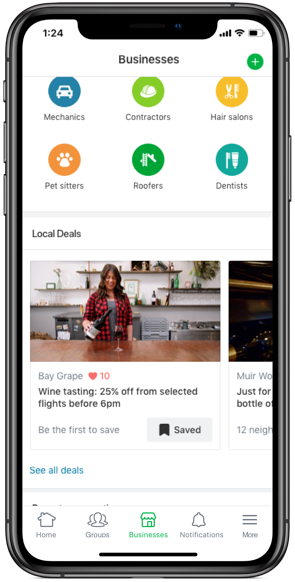 In Search results. When neighbors search for your business or something related to your business category and services you offer, your Local Deal will show up on the search results page.
We do the marketing for you, so there's no additional work required by you to market your Local Deal to neighbors on Nextdoor. Once your deal is posted, be sure to regularly check your private messages for any inquiries from neighbors, and check your Dashboard for insights on the performance of your Deal.
Save time with a little help from us and create a Local Deal in less than 5 minutes today.