---
How To Use Polls on Nextdoor as a Real Estate Agent
Having regular conversations with customers is a foundation to building relationships, and is critical if you are running a people-based business like real estate. On Nextdoor, 1 in 4 conversations are about home ownership, which provides a unique advantage for agents to naturally partake in the dialogue with members, become a helpful resource to neighbors, and grow their local reputation.
Real estate agents that sponsor a ZIP code on Nextdoor receive two customizable posts per month to engage with residents in the neighborhood. Not sure how to start a conversation in your ZIP code? One easy way to get immediate engagement is to create polls. Polls are a non-intrusive way to start a conversation, gather insights about your local community, and a way to direct people into your sales funnel for new business.
A well-designed poll is one of the most powerful Nextdoor marketing tools real estate agents have available to them as a Neighborhood Sponsor. The more people interact with a poll, the more times the post will be featured on the main Newsfeed for everyone in the neighborhood to see.
See tips on what to post and how agents are creating polls to create conversations and increase their exposure on Nextdoor.
Get to know your audience
Nextdoor is unique in that it lets agent interact with members based on location, so asking neighbors to suggest their favorite neighborhood activity are a great conversation starter. This also makes you approachable by talking about a shared experience that everyone can relate to.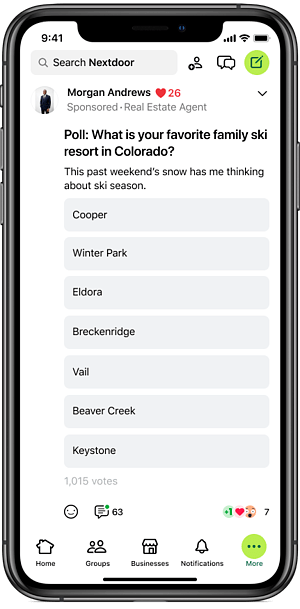 Position yourself as the local market expert by discussing local news
Local news stories that are relevant to your community like a new building in development or road closures personally affect our daily routines and neighborhood experience. Homeowners and buyers expect their real estate agent to be the local market expert, so using polls to share relevant real estate news is a way to spark engagement and help you get associated with the community.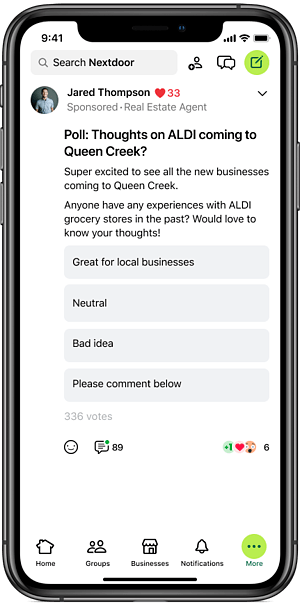 Use polls to plan your next event
Polls can be used to learn about homeowners and provide insights for your business, and can also serve a double purpose to create more content. Think of ideas that other neighbors may want to see and ask them directly to gauge their interest. In addition to hosting regular home buying and selling seminars, The Olson Group recently polled the neighborhood to plan their next event.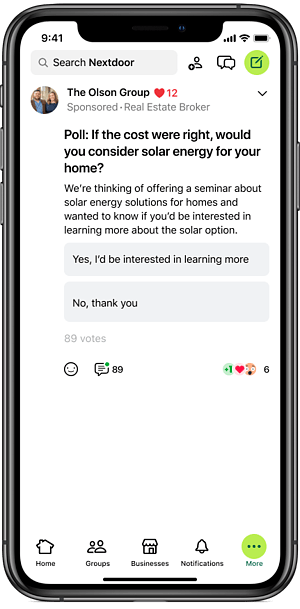 Review user engagement – be responsive
Polls are a conversation starter, but should be designed to encourage neighbors to engage. Adding an "Other, please comment below" option makes the poll question open-ended so agents can receive comments directly on their post. The more neighbors interact with a poll by voting and commenting, the more visibility it will get in your neighborhood.
Pay attention to responses from neighbors and use them as an opportunity to move the conversation forward and build a relationship. Research says that a shorter response time to customers can significantly improve lead conversions. If a lead opportunity presents itself in the comments section, agents can respond quickly on Nextdoor and take the conversation offline.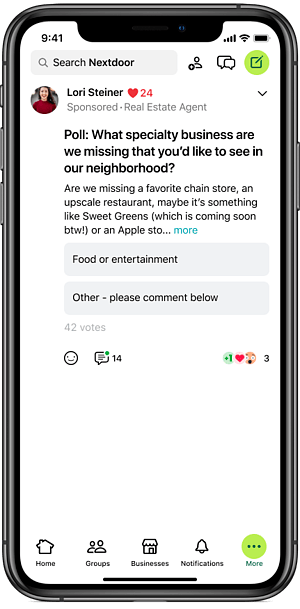 Conclusion
For real estate agents on Nextdoor, polls can be an effective way to understand the local community, who potential customers are, what their interests are, and what's important to them. Agents can make their polls work for their business by designing them in a way so people will engage. With the right polls, agents can build relationships and stay top of mind among neighbors who are looking to buy or sell their home in the future.