---
Knowing how to become a realtor or real estate agent is just the first step of entering the industry. For real estate agents, marketing is a critical part of the job. In addition to promoting properties to attract active buyers, agents must also market themselves and differentiate their services to stay top of mind. Successful agents are able to stand out by investing in their brand and relationships within their community, which takes time to build up.

In a competitive industry like real estate, having the right marketing tools and advice is important to succeed. Neighborhood Sponsorships is Nextdoor's real estate agent marketing tool that gives agents the ability to localize their marketing and connect with neighbors at the ZIP code level. Whether it's sharing local business referrals or planning a walking group at a park, members turn to Nextdoor as a trusted communications platform to connect with other neighbors. Agents can use Nextdoor to get their brand out, grow their local reputation, and most importantly, engage with potential customers who are in need of real estate agent services.

Here we will cover some of our most common questions like how agents can best interact with neighbors and find marketing success with Neighborhood Sponsorships. We've compiled 5 marketing tips to help real estate agents build their brand — brought to you by some of Nextdoor's top agents.
1. Grow agent brand awareness on a local level
"For me, the number one reason I'm doing Neighborhood Sponsorships is for more branding – it's effective. My picture is consistently in front of all the neighbors in the ZIP codes that I want to work in. Neighborhood Sponsorships has been an easy way for people to keep seeing my name and picture over and over again, and, moreover, every call I get as a result of Nextdoor marketing turns into a qualified lead." – Michael Brombacher, Reside Residential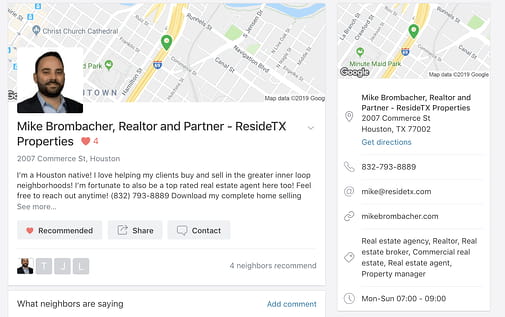 Mike's agent profile includes an approachable bio introduction and customer recommendations.
2. Reach a qualified audience of homeowners
"With Nextdoor, I'm able to reach a broader community to raise awareness of our business. On other social media platforms, I'm sharing only to an audience who have chosen to be a fan regardless of where they live. With Nextdoor, I'm reaching the local community by ZIP codes. With Nextdoor I have the ability to reach people who are homeowners and also by specific neighborhood, which has more value to me when I'm promoting Open Houses in the area" – Karen Bernardi, Bernardi Group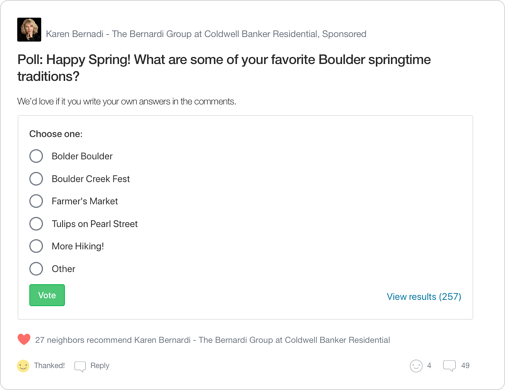 Karen's post is specific and relevant to the locality she serves – and shared in a fun way.
3. Lead a conversation with the local community
"Neighborhood Sponsorships are a great way to reach your community, to build rapport, and to gain the respect and trust from your community members. I can't think of any other place where I can lead a conversation with over 1,000 neighbors about local real estate topics." – Morgan Marley, Bayou City Brokers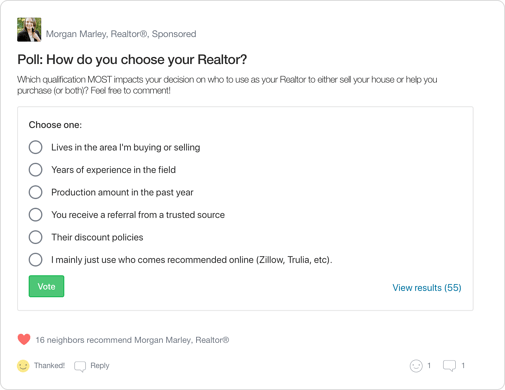 Morgan uses polls to spark engagement with her neighborhood.
4. Replace direct mail ads with more personal and trackable means
"I compared my Neighborhood Sponsorship costs to postcards. I like Nextdoor because it gives you immediate feedback on how many people have seen your sponsorship. The cost is cheaper than direct mail and I know they've seen it – they haven't thrown a postcard on the ground or in the trash." – Cheryl Orlino, Millennium Realty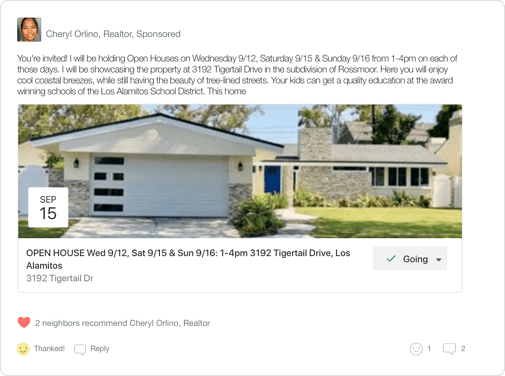 Cheryl created an Open House event that includes a personal touch and customer recommendations.
5. Build a strong brand so neighbors come to you
74% of Nextdoor members are homeowners, and one member sought and found a professional and trustworthy agent who understood his needs.

"In my first month as a Neighborhood Sponsor, a prospect actively looking to buy a house found me. I immediately responded to the inquiry, did a video walk-through to show him the home, and we closed within a month; he bought without seeing the house in-person! The homebuying process was fast and online; with Nextdoor, I was at the right place at the right time." – Robert Marchese, Realtor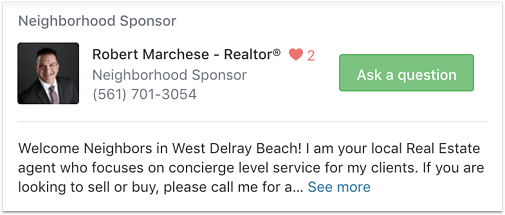 Robert's agent profile ad displays a professional photo and introduction that clearly articulates his services.
---
Nextdoor Neighborhood Sponsorship posts provide a dynamic opportunity to connect members with real estate agents based on real-time conversations. In addition to profile ads, every real estate agent that is a Neighborhood Sponsor gets two customizable posts per month in each sponsored ZIP code. If you're a real estate agent new to Nextdoor, get started with your Neighborhood Sponsorship and check ZIP code availabilities here.