---
Whether your business sticks to oil changes, does auto body repair, or is a full service automotive repair shop, you're now dealing with new health and safety guidelines and operating procedures at your shop. You need to communicate with your customers to keep them up-to-date so they know about your new processes and can utilize your services.
With Nextdoor Business Posts, you can stay connected with the customers closest to you, your neighbors, and keep them informed about what you're up to. Glean some inspiration from other businesses like yours and see what they've shared with their neighbors to keep them in the loop:
1. Let neighbors know how you're helping or giving back to the community.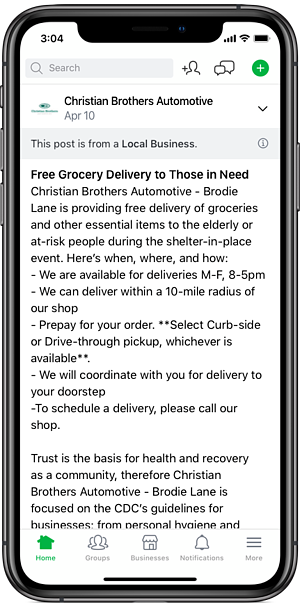 Spread goodwill for your business by sharing about the efforts you're taking to help those in need in your local community during this time.
2. Keep your business name top-of-mind.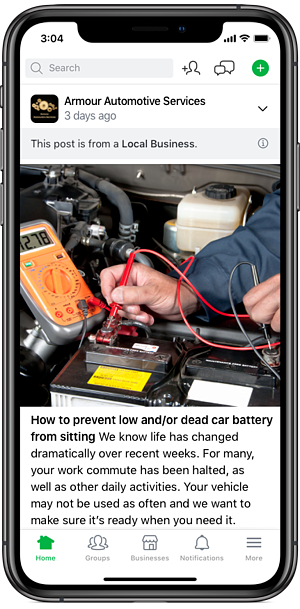 Provide valuable tips about automotive care and maintenance. Better yet, make sure your tips are relevant during this time when neighbors have been staying home and not using their vehicles often.
3. Let neighbors know the measures you're taking to ensure your safety and theirs from COVID-19 transmission.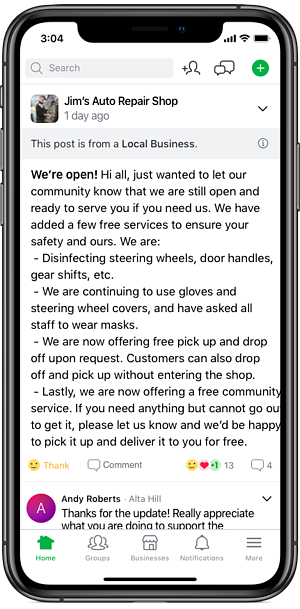 Give customers peace of mind and make your business more accessible by sharing any new cleaning or disinfecting measures you're taking to help stay healthy.
4. Tap into your local workforce by posting your job openings.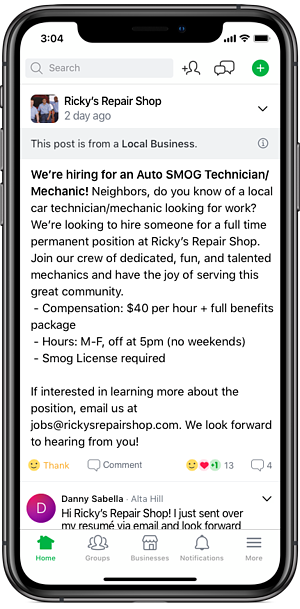 If your business is hiring and you need to find someone local quickly, post job openings to find candidates or to get referrals from neighbors.
Hear from a fellow local business
Mark, owner of Christian Brothers Automotive in Austin, TX, shared the following advice regarding Business Posts:
"Engage with your community to get unfiltered information about your business that will help you identify and understand the subtle changes in your customer base. Nextdoor is a great channel to get in front of new movers (into our local neighborhoods) and quickly and easily share our services, differentiators, and value statements."
Use these tips – and review our best practices – to tap into the strength of neighbors, who will be essential to the recovery of our treasured local businesses. To stay in touch with your community using Nextdoor Business Posts. Looking for more inspiration, check out our auto body shop marketing guide.
---
Claim your free Business Page to get started on Nextdoor. For resources on how to use Nextdoor to stay connected with your local customers, pertinent news affecting businesses, and more, follow us at @nextdoorbusiness on Facebook.