---
As the economy begins to reopen following the coronavirus crisis, bars and restaurants have to pivot to new ways of operating for the foreseeable future. The good news is that loyal customers are likely still craving their favorite hamburger and cocktail specials from you, but don't know if or when you're reopening.
With Nextdoor Business Posts, you have the ability to get the word out and connect with your local customers right in their neighborhood newsfeed. Below are 3 ideas from other bars and restaurants like yours that have resulted in high engagement from their local customers:
1. Let neighbors know about new health and safety measures you've implemented.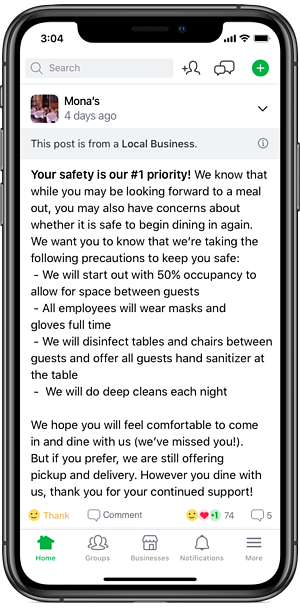 Share any new precautions that you're taking that will help keep your customers and staff healthy so they feel more comfortable visiting your establishment.
2. Keep customers abreast of any changes to your business operations.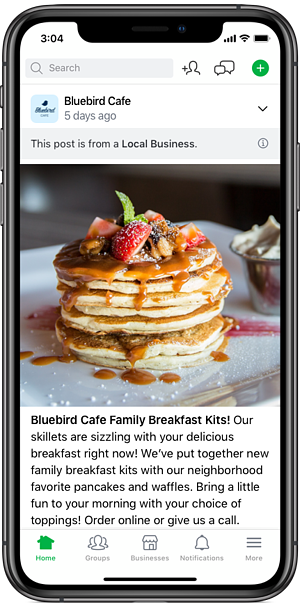 Whether you now offer takeout/delivery, to-go meal kits, or have converted your restaurant to sell essential goods, make sure neighbors know so they can take advantage of your offerings.
3. Let neighbors know how they can help your business or employees by sharing fundraiser details.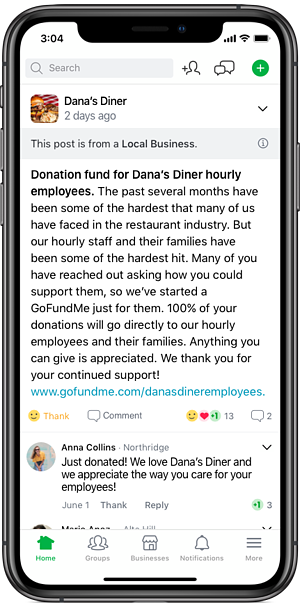 Your loyal customers want you to stay in business. Share information about any fundraisers you've started so they can support you.
Hear from a fellow local business
Earl, owner of Neighborhood Favorite 1431 Cafe in Cedar Park, TX, posted on Nextdoor during the coronavirus pandemic. He had this to say about the experience:
"Our Nextdoor presence and the fact that people were sharing my posts and complimenting us for supporting the needs of the community created positive word-of-mouth that literally kept us afloat for a month."
Follow the lead of businesses like yours – and review these best practices – to stay in touch with your community using Nextdoor Business Posts.
---
Claim your free Business Page to get started on Nextdoor. For resources on how to use Nextdoor to stay connected with your local customers, pertinent news affecting businesses, and more, follow us at @nextdoorbusiness on Facebook.