---
As a provider of home services, you're probably operating under new processes to keep yourself and your customers healthy in the wake of the coronavirus crisis. Your customers need to hear from you about what you're doing differently and how they can stay healthy while utilizing your services. That's where Nextdoor Business Posts come in.
Not sure what to share into the newsfeed of your local community? Gather some ideas from fellow home services businesses like yours:
1. Ask neighbors what they need right now so you can provide better customer service.

Get a pulse on what the community needs from you and what products, services, or new procedures would be beneficial to them during this time.
2. Provide helpful information about home maintenance and repair with your expert knowledge.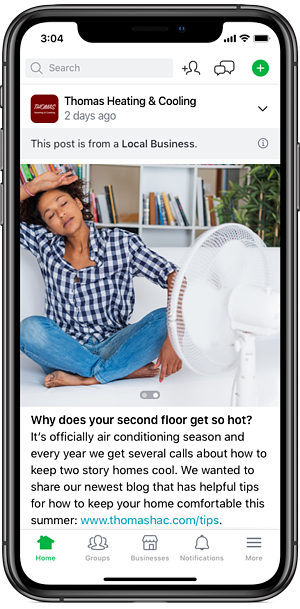 Highlight your expertise while also providing value to neighbors by sharing tips about home maintenance or repairs that they may either be able to do themselves – or schedule an appointment with you to complete.
3.Remind neighbors that you're available and ready to help with their needs.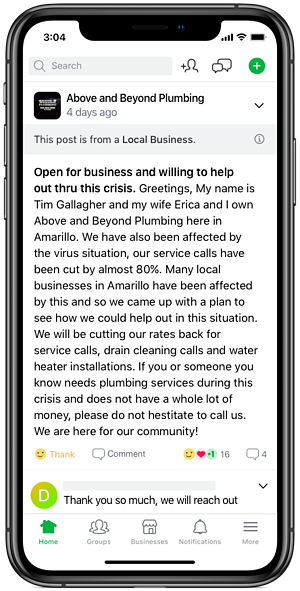 Tell neighbors about any changes to your availability or rates, or special conditions that you're offering in light of the coronavirus crisis.
Hear from a fellow local business
Tim, owner of Above and Beyond Plumbing in Amarillo, TX, used Business Posts to connect with his local community during the coronavirus pandemic. He has seen there is strength in Nextdoor neighbors, who are eager to support local businesses as they prepare to open in phases.
He had this to say about the experience:
"We've gotten a lot of calls since our posting. I think there were about 11 or 12 reactions on the post, but even more people must have shared it. And it got around town – and even if they weren't Nextdoor members, they heard of us from someone who was a Nextdoor member. It has been a blessing. A tremendous blessing."
Business Posts help you tap into the strength in neighbors, who are essential to the recovery of our treasured neighborhoods.
Need more tips? Check out our Business Post Best Practices.
---
Claim your free Business Page to get started on Nextdoor. For resources on how to use Nextdoor to stay connected with your local customers, pertinent news affecting businesses, and more, follow us at @nextdoorbusiness on Facebook.