---
The holiday season is all about giving, celebrating, and connecting with those who matter most. Your local community is no exception. And according to Google data, reaching them online this year is even more crucial. With 71% of U.S. adults reporting they plan to do more than half of their shopping online, you'll want to make sure business is ready to meet online customer demand.

Whether it's spreading holiday cheer or getting the word out about special holiday events and promotions, your Nextdoor Business Page allows you to get discovered by neighbors and grow your online presence. Give your Business Page a quick refresh to stand out and stay relevant during this busy season.
Use these tips to get your local Business Page holiday ready:
Update your cover photo and gallery


Your cover photo and photo gallery are one of the first things neighbors see when they go to your Business Page. In general, we recommend photos that showcase the appeal and uniqueness of your business. But for the holidays, feel free to give them a festive twist. Photos you can add include: seasonal food, your products, a decorated storefront, and even your employees wearing festive gear. If you're a realtor, you can add seasonal imagery like a home decorated with holiday touches. All of these options help you build your brand and show your local customers you're getting in the spirit of the season.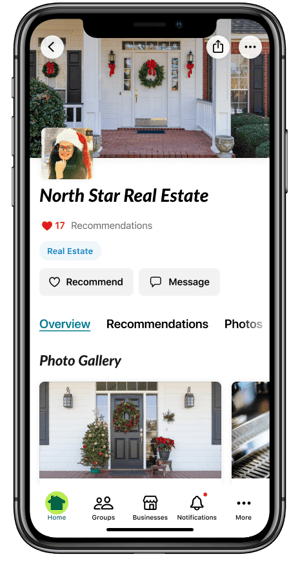 Give your profile photo a festive touch
Your profile photo is highly visible among neighbors. It's one of the first things they associate with your Business Page since it appears with your Business Posts, which show up in the most visible area of Nextdoor, the news feed. Incorporating a festive touch - like a Santa Hat or holiday colors - to your profile photo or logo is an easy way to bring the holiday spirit to your neighbors.

Update your contact information and make note of special holiday hours
The holiday season is busy and if you're changing your hours, make it easy for neighbors to find you. Use your Business Page to keep local customers abreast of your updated availability.


Ensure your business offerings are up to date
Although it's the holiday season, we still have the pandemic to keep in mind. Make sure your business offerings like gift cards, takeout and delivery, and fundraising links are up to date. These features can help boost cash flow so if you offer one or more of these services, take the steps to make sure it's reflected on your Business Page.

Gather recommendations for your Business Page
Recommendations not only give your business credibility. On Nextdoor, they help your business show up in searches from neighbors who live within 50-miles of your business address. Use the holiday season to gather recommendations from clients and customers to increase your online presence.
Use your Business Story to spread the holiday spirit
Does your local business have special holiday events or traditions? Make mention of it in your story. Maybe you own a hardware store and are planning a holiday lighting event. Or maybe you run a cafe and you every year you unveil limited-edition holiday cups. Or maybe you're a real estate agent who partners with local organizations for an annual food or toy drive. Use your story to let neighbors know how you plan to spread the holiday spirit among your local neighborhood.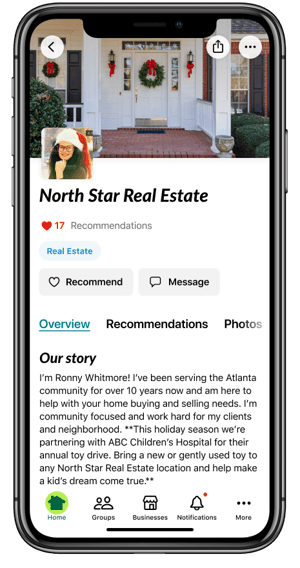 Follow these tips to get your business ready for the busy holiday season and to ensure you stand out online.
---
Claim your free Business Page to get started on Nextdoor. For resources on how to use Nextdoor to stay connected with your local customers, pertinent news affecting businesses, and more, follow us at @nextdoorbusiness on Facebook.