---
In the wake of the coronavirus crisis, with the reopening of retail businesses comes excitement, concerns, and changing health and safety guidelines. That's why it's especially important to stay in touch with your customers.
Your customers want to hear from you: they may want to know what new protocols you're following, what they need to do to stay healthy while visiting your business, or learn about any new offerings you've developed during this unprecedented time. With Nextdoor Business Posts, you can reach and notify your customers of all of your business updates in real-time.
Read on for some examples of posts from fellow retail businesses like yours that can inspire your next post:
1. Let customers know if your in-store operations have changed.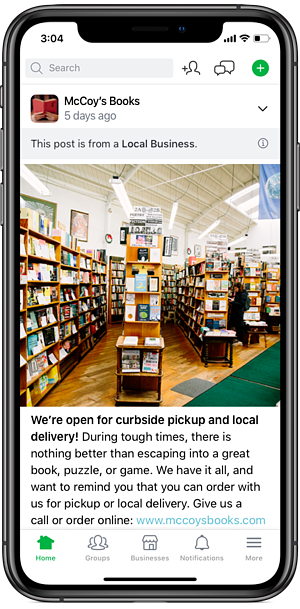 Do visitors to your store need to stay six feet apart or wear masks? Do you offer phone orders with curbside pickup? Keep your customers up-to-date so they know what kind of experience to expect if they stop by your store.
2. Get a pulse on how your customers are doing.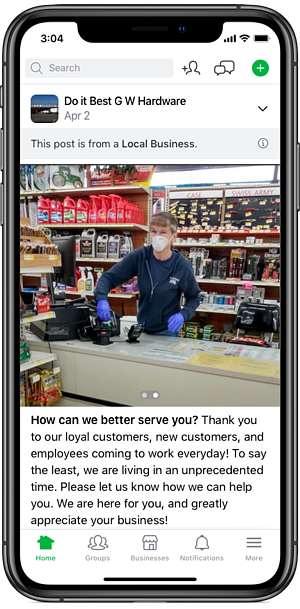 The needs of your customers may have changed because of the coronavirus crisis. Ask neighbors what new products or services they'd like to see your store offer so that you can better serve them.
3. Find creative ways to give excellent customer service virtually.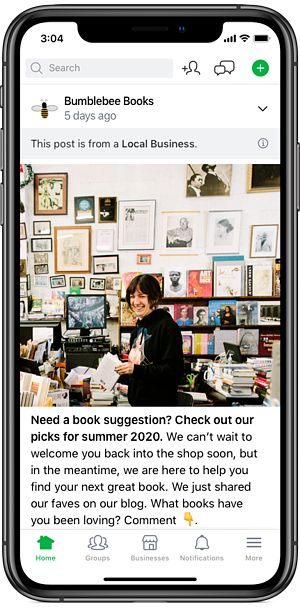 Create a curated list of favorites that your store carries – books, recipes for drinks or sweet treats, must-have items for the home, goods to fill a gift basket – and more, that will help with your sales and keep your customers busy while they stay close to home.
4. Share new products or services for your customers based on new lifestyle changes.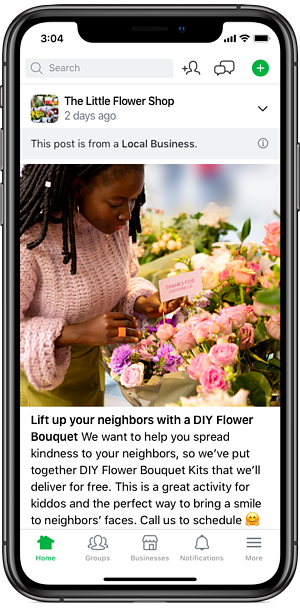 If you have adapted any of your products to account for lifestyle changes brought on by the coronavirus crisis – for example, people may be opting to stay home instead of seeking out other activities – consider selling DIY kits for crafts, meals, or home projects.
Hear from a fellow local business
Anne Marie from Do It Best G W Hardware in Woodburn, OR, said of business posting:
"The two-way communication that Business Posting offers is huge. It allows us to build our relationship with the customer. The customer is our number one priority, and if they know that, then they tell their friends, and their friends tell their friends, and to me that's what Nextdoor is all about."
Check out our Business Post Best Practices for more tips.
---
Claim your free Business Page to get started on Nextdoor. For resources on how to use Nextdoor to stay connected with your local customers, pertinent news affecting businesses, and more, follow us at @nextdoorbusiness on Facebook.