---
Today, marketing newly available and recently sold property listings is not enough to capture home buyer and seller attention. Homeowners actively looking to move or sell can easily access this information on the internet, and real estate agents must be able to provide more value than sharing listings to attract new clients.

One way agents can stand out from the competition is drawing on their local neighborhood expertise. Many times, homebuyers are shopping for more than a house. They are also shopping neighborhoods that best suit their needs, whether it's proximity to public transportation or quality of a school. Agents can position themselves as a trusted neighborhood resource by showing they know the area and are an integral part of the community.

Neighborhood Sponsorship is Nextdoor's real estate agent marketing tool that offers agents the opportunity to showcase their expertise in front of the entire neighborhood. As a Neighborhood Sponsor, agents can claim specific ZIP codes, grow their local brand presence, interact with neighbors through posts, and build relationships that can turn into customer leads.

Learn more for tips on how agents can use Nextdoor to flex their local market knowledge with Neighborhood Sponsorships.
Post 1 – Introduce yourself and get to know neighbors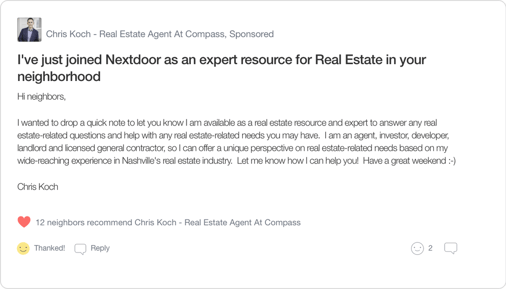 If you are new to Nextdoor, put yourself in the position of a homeowner in the neighborhood. What would be helpful for he/she to know about you? What are your neighbors talking about on Nextdoor and how can you positively contribute? When introducing yourself, help set expectations to be a resource by being clear on what neighbors can come to you for and find ways to better serve your clients.
Post 2 – Share market specific content on a regular basis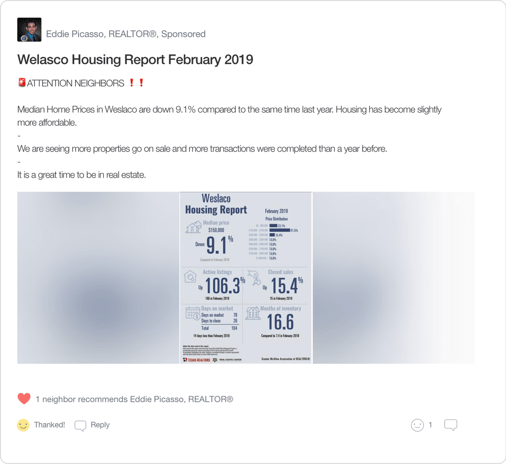 Buyers and sellers want to get the optimal value for their homes. Real estate agents have access to what's selling, what is coming on the market, and what neighborhoods are getting hot. Sharing local market knowledge with neighbors on a regular basis will increase your credibility as the go-to resource for the housing market. One way to stand out on Nextdoor is to share your market data analysis as visually appealing content in the form of infographics and videos.
Post 3 – Demonstrate your real estate expertise with home-related content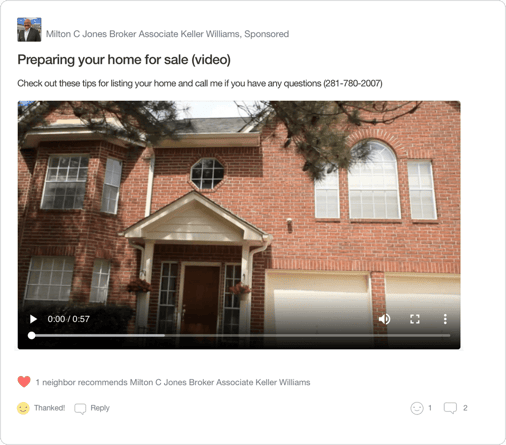 Educational content is an effective way to put agents in the position of "real estate expert" to a group of aspiring home buyers or sellers. First-time buyers and sellers typically need a lot of guidance. By helping them navigate the process through education, agents can build trust, which can turn into new warm leads for business. Topics can range from a step-by-step process of how to buy a home, how to increase one's home valuation, or how to qualify for a mortgage for a new home. Milton C Jones Broker Associate shares useful tips for how to prepare a home for sale using video.
Post 4 – Support and connect with local businesses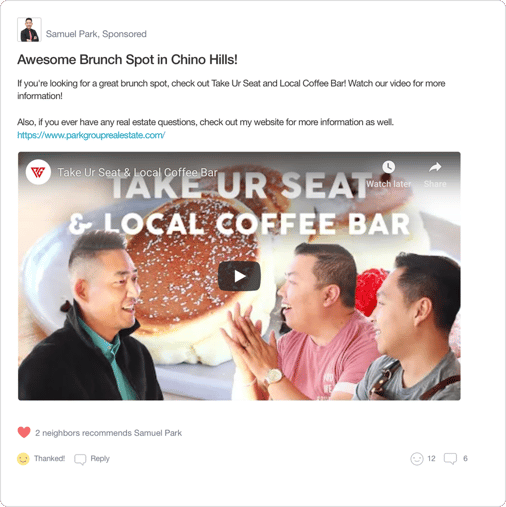 Aside from real estate agents, there are also others that earn business from real estate transactions—from construction, movers, and home security companies. Your clients may come to you for recommendations for everything from painters, to places to eat, to the closest bank. If you know the local businesses and what they offer, or better yet, have a relationship, you'll be able to better answer your clients' questions.
Post 5 – Build your credentials as the neighborhood expert with local news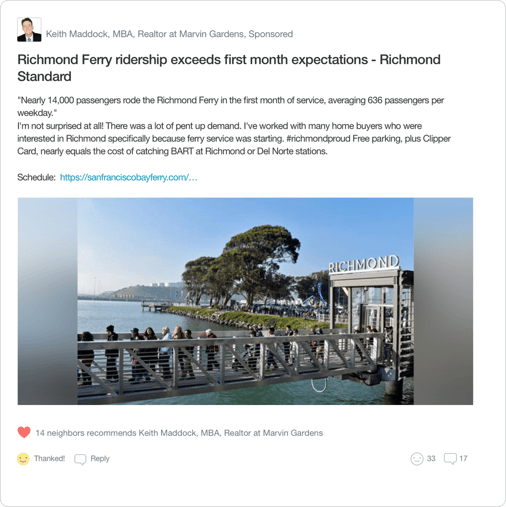 Experts not only know what homes are selling for and how long they're on the market, they also are privy to local news that could affect the neighborhood quality of life. Sharing this information is intrinsically linked to showing your local expertise. Keith Maddock, MBA, Realtor at Marvin Gardens proactively shares local news that would be helpful for his neighbors to know.
Post 6 – Show your commitment to the community by hosting an event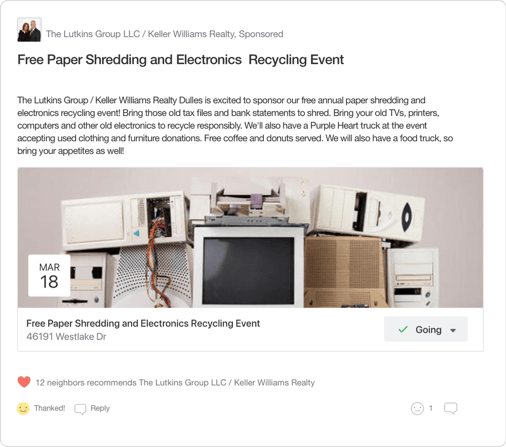 One of the most effective ways to get your name out there in a neighborhood is to host an event that is easily supported by everyone and close to home. Events mean more than having a logo slapped on collateral; when done properly, the face time you get with neighbors can lead to lasting connections, which is important when agents want to be top-of-mind in their area. The Luthkins Group LLC recently hosted a local pop-up event to highlight a good cause, also offering refreshments to create an opportunity to build rapport with neighbors.
Conclusion
Agents can demonstrate their neighborhood expertise by knowing the ins and outs of their neighborhoods, creating strong relationships with reputable local organizations and businesses, and having answers to the myriad of questions that come up during the home buying/selling process. The better you know the neighbors and their neighborhood, the more expertise you will build over time, which can lead to neighbors wanting to work with you.
---
Neighborhood Sponsorship posts provide a dynamic opportunity to connect members with real estate agents based on real-time conversations. As part of Neighborhood Sponsorship, in addition to profile ads, every real estate agent gets two customizable posts per month per sponsored ZIP code. If you're a real estate agent new to Nextdoor, get started with your Neighborhood Sponsorship and check ZIP code availabilities here.