---
This article was updated on November 20, 2020
Even during a pandemic, the holiday shopping season is still expected to go out in full swing.
And with 60% of American consumers planning to do the majority of their holiday shopping at local retailers, now is the time to tap into Nextdoor Local Deals. From holiday decor and services to specialty gifts, Local Deals remind nearby customers that you're available for business and let them know you're offering special promotions to make their holiday season even brighter.
Here are a few ideas to attract more customers with Local Deals during the holidays:

#1 Countdown to the holidays with weekly promotions
Keep customers engaged (and coming back for more) all season long by using Local Deals to push weekly promotions. You can go about this in a variety of ways, but in this example, the retail store Noelle's Novelties is choosing to highlight different products every week. They're offering Nextdoor customers a 10% discount on all of their kitchen products and teasing ahead to their next promotion the following week.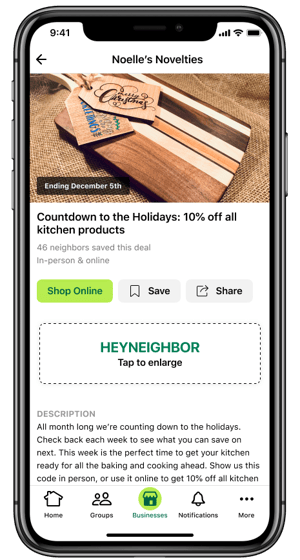 Why this works: A countdown with weekly promotions is not only a fun way to engage your customers, it keeps them coming back. Even if they aren't interested in kitchen products, knowing that you'll have a new offer for the next week may lead them to come back to see what you're promoting next.


#2 Include something free
This time of year, customers are likely spending a lot of money and will be excited about the chance of getting something for free. It could be a free item or gift wrapping. If your business is online, this is a good opportunity to promote free shipping for orders over a certain amount.
In this example, Whimsy Creations uses a Local Deal to offer customers a free wreath hanger with the purchase of any seasonal wreath and the mention of Nextdoor.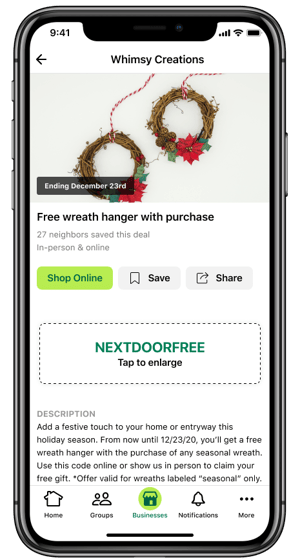 Why this works: This type of deal showcases the quality of products and gives customers more incentive to buy (a free wreath hanger).


#3 Offer a discount for safer shopping during non-peak hours
The holiday season may be merry but it's important to remember we are still in a pandemic. If your business has a storefront, you may already be limiting the number of customers inside your store at one time. Bust doing so may lead to long lines outside - especially as we get closer to the actual holidays. To help curb the crowds, you could consider offering a discount to customers who come during non-peak hours.
In this example, Baywood Books is offering customers 5% off one book if they stop by between the hours of 8:00 AM and 11:00 AM -- when they typically get less foot traffic.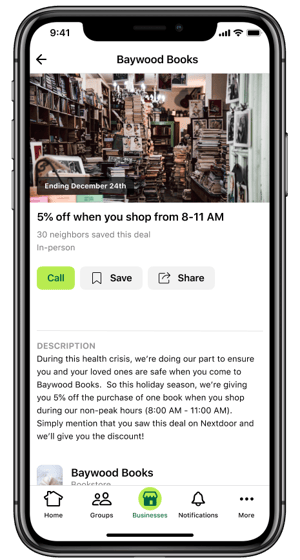 Why this works: Offering an additional discount gives people more incentive to come to your business. Plus, shoppers will likely prefer being around fewer people during this time.


#4 Show off your holiday portfolio
If the holiday season is a big part of your business, Local Deals can help you showcase your festive work. This gives nearby customers a clear idea of what they'd get if they use your services or purchase from your business.
In this example, Work of Art Photography is leaning into the busy holiday portrait season. This local photography business showcases her previous work then offers 5 additional photos for customers who mention Nextdoor.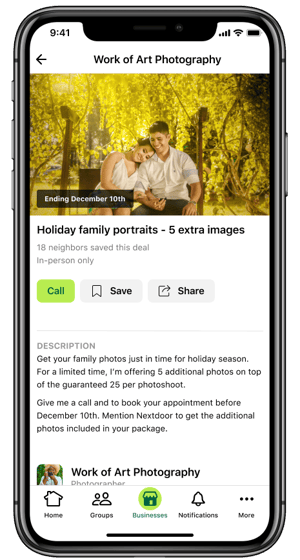 Why this works: When you showcase your best work, it reassures potential customers of the quality of service they'll get when they choose your business. Adding the additional photos is just the icing on the cake.
These are a few ideas to help get you started on using Local Deals this holiday season. They're quick and easy to run – and help you reach the exact audience you'd like to target. Claim your Business Page to start using Local Deals today.