---
Unique Holiday Deals for Small Businesses
As a small business owner, you may find yourself constantly on the lookout for ways to meet new customers. Holiday marketing ideas, special offers, and organized events are always on the to-do list.
But the perfect opportunity to attract new business is soon to be here: the holidays.
Every year, shoppers are eager to take advantage of the best holiday deals. This year, however, with foot traffic and in-person holiday shopping still being disrupted due to COVID-19, it can be tough for small businesses to think up unique and engaging, exclusive deals that attract these customers.
Below, this guide will cover five effective holiday deals and special offers for small local businesses.
#1 Invite Customers to Build Their Own Meal or Drink
Anyone can deliver takeout—but if you're running a restaurant, catering service, or bakery, you can also make your customers' holiday experience a little more unique.
While working from home, many people find they have more time on their hands. During the holiday season, they may want to take a break from Netflix to engage their families in activities like cooking and baking.
In North Beach, restaurant Schmaltz invited customers to build their own five-course meals for Rosh Hashanah from a kit of pre-measured ingredients. The promotion was so successful that they decided to run it for another two weeks after the holiday!
Want to try some similar exclusive offers for Thanksgiving, Hanukkah, or any other upcoming holiday? Just follow these steps:
1. Brainstorm recipes that are easy to cook and follow at home, then have an inexperienced chef try them out (maybe a friend or loved one). By working out any kinks in advance, you can be sure that customers will have a successful holiday meal.

2. Assemble ingredient kits with pre-measured ingredients. You can leave out kitchen staples like salt, pepper, and olive oil, as most people will have these basic ingredients at home.

3. Send your kit with clear written, audio, or video instructions. Before customers purchase the kit, you should list the required cooking equipment—that way nobody will be stuck in the kitchen.

4. Give customers a discount on their next order when they share photos or videos of their cooking experience on a social media channel of their choice. Posting a Local Deal on Nextdoor can help you get the word out to the neighborhoods you'd like to reach. Their responses will provide you with a free marketing source and will encourage others to try out your kit!
Don't want to assemble a full five-course meal? Consider offering a takeout menu along with a few interactive items, like a build-your-own dessert or appetizer. Even something simple can show that your small business is thinking of its customers during the holidays.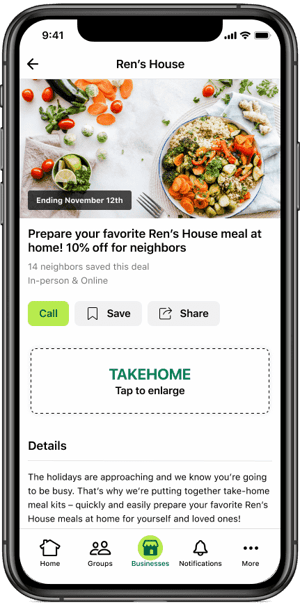 This restaurant used Local Deals to promote a discount for neighbors on their prepared holiday meals.
#2 Partner With Another Business to Pair Food & Retail Items
Whether you're in food services or a retailer, other local businesses can be great partners for spreading the word about your business, promoting your brand, and selling your products.
This holiday season, take it a step further by partnering and cross-promoting with other local businesses to create a unique gift and meal experience.
Need a little inspiration?
In one of the most memorable restaurant holiday promotions, Chicago's Beatrix offered a Mother's Day brunch delivery that came with a bouquet from local florist Flowers For Dream. A deal like this can benefit both parties—the restaurant had something to differentiate their brunch from the competition's, and the florist sees increased sales and brand awareness.
In your own local neighborhood, find a partner to:
Add a decadent chocolate bar to a Halloween feast
Pair a candle, bouquet, or ornament with your Christmas menu
Pair dinner with dessert (cross-promoting a bakery and a restaurant)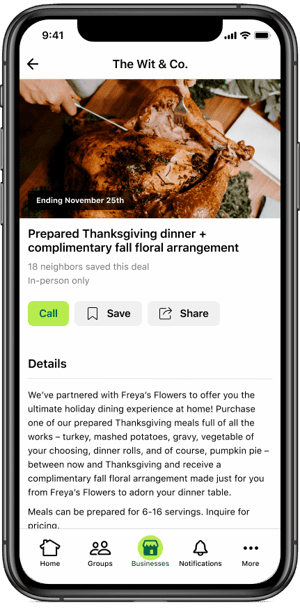 This local restaurant partnered with a local florist to offer a complimentary floral arrangement when customers purchased one of their prepared meals – and used Local Deals to let the community know.
#3 Create a Virtual Event
Holiday events are a staple of the post-Thanksgiving sales season. Are you looking for a way to recreate the revelry online and make your food or products more engaging for customers enjoying them from home?
Try hosting a virtual holiday event filled with education, conversation, and connection.
In Los Angeles, restaurateur Nancy Silverton has sold delivery meals alongside a Zoom cooking demo and conversation, with proceeds benefiting the Downtown Women's Center.
But you don't have to be a celebrity chef to create an engaging event.
Tailor these ideas to your needs:
For adventurous friends or loved ones, host a week of virtual haircut experiences, where a professional hairstylist will be doing a different haircut each day of the week. Viewers can follow along, ask questions, and offer their friends a complimentary haircut.
Invite customers to order a meal, dessert, or drink kit from you in advance. This could include everything from a cookie-making kit with cookie cutters to the ingredients for a festive cocktail. Then, hold a live class with a Q&A.
Hold a knit-along, read-along, or similar event to highlight a gift from your retail store. It's always exciting to purchase (or gift!) items like knitting needles, books, woodworking kits, and other specialty items from retail stores—and if there's consistent support to help the recipient actually finish their project, it's an added bonus.
You can even host a virtual holiday party or mixer with free e-gift bags for event attendees. Just make sure there's some entertainment to avoid any awkward silence.
#4 Make Donations, Together
Right now, many people want to make sure they're giving back, even when they're indulging in the joy of the holidays. Letting customers know that your business is doing good in the local community may incentivize customers to patronize your shop.
How are other small businesses doing it?
In New York City, restaurants have used the following models:
You don't have to copy these exact models. Here are some things to consider when you put on your own donation program:
If you're taking regular donations from customers, let them know when you've reached a fundraising goal, and where you've donated the money.
Letting customers know that you're making a donation of a certain amount for every $10 or $100 they spend might help them feel more inclined to splurge on dessert or buy the sweater they love for their cousin and for themselves.
If the donations are going toward purchasing specific items for a charity, let customers know what it is and provide pictures. Seeing tangible objects makes donating feel that much more real.
Hosting a recurring charitable event can help those in need, while raising your business's profile within the community. Win-win.
#5 Twelve Days of Christmas Giveaway
Another way to partner with local businesses? Create giveaways together. That way, you're giving away less of your own merchandise and services. You're also benefiting from the other local business's promotion, brand, and profile.
How does it work? Florida Coast Magazine partners with local businesses to create a giveaway with an item from a different local business for each of the twelve days of Christmas.
You could adapt this model to your business's specific needs:
Find 11 other businesses for a 12-day giveaway
Take turns giving away items or services with a few businesses
Run a promotion for a shorter period of time (e.g., 5 Days 'til New Years Sweepstakes)
The cost of merchandise or services can be well worth the publicity. After all, you can ask customers to enter by signing up for your mailing list or otherwise entering your sales funnel. Then, you can re-market to them with another unique promotion!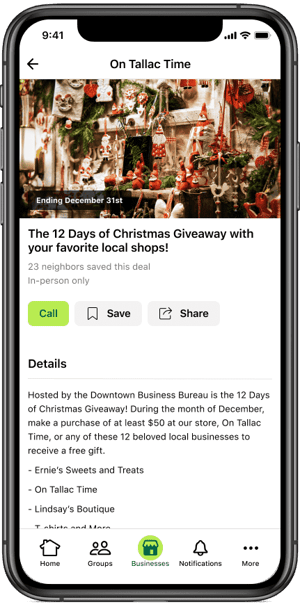 This local retail store promoted their participation in a holiday giveaway via Local Deals.
Speaking of, how can you get the word out about your special promotion? After all, it's the holidays, and this is the time when every business is setting up its marketing initiatives.
Engage With the Local Neighborhood Using Nextdoor
When you put time into your marketing efforts, you want to make sure you're targeting real, local shoppers. You can go viral online for your special build-your-own gingerbread castle promotion—but if you're viral in a different state, that doesn't exactly help your business.
How do you engage your local shoppers online?
You need to be where the neighborhood happens—and that's Nextdoor.
Starting a conversation with free Business Posts through your Nextdoor Business Page and running Local Deals can be a great way to raise your visibility, increase interactions, and get more customers through your physical or virtual doors.
Try a Post-Back Contest
In a "post-back contest," the goal is getting customers to engage with your page and share it with friends and family (in the hopes of winning a prize). To do this on your Nextdoor Business Page:
1. Make a Business Post that asks customers to caption a photo of a product or meal, share a family holiday tradition, or even name a new dish or product.
2. State that the winner will receive a promotional discount, a free product, a free appetizer, etc. Share photos of the prize! Consider rewarding runners-up, too.
3. Set a clear deadline for the contest.
4. Engage with posts as they come in to build rapport with customers.
5. Announce a winner once the promotion is complete.
This is an easy way to create a unique holiday deal all your own, and share it with those who matter most—your neighbors.
Extend Holiday Cheer and Build Community
These ideas will hopefully spark your business's approach to Thanksgiving, Black Friday, Hanukkah, Kwanzaa, Christmas, and beyond. As you know, there's always a new opportunity to inject a little festivity into your store or restaurant and change your approach to doing business.
And a little holiday cheer is exactly what's needed this year.
--
Additional sources:
Florida Coast Magazine. 12 Days of Christmas Giveaway. https://www.floridacoastmagazine.com/floridacoastmagazine/novdec18/MobilePagedArticle.action?articleId=1440166#articleId1440166
Los Angeles Magazine. Where to Order Mother's Day Brunch, Dinner, or Treats to Go. https://www.lamag.com/digestblog/mothers-day-brunch-delivery/
San Francisco Chronicle. Bay Area Restaurants Celebrate Rosh Hashana With Special Meal Kits. https://sanfrancisco.cbslocal.com/2020/09/18/coronavirus-restaurants-celebrate-rosh-hashana-meal-kits/
---
Claim your free Business Page to get started on Nextdoor. For resources on how to use Nextdoor to stay connected with your local customers, pertinent news affecting businesses, and more, follow us at @nextdoorbusiness on Facebook.