---
Local Marketing for Your Pet Services Business
Pets are near and dear to neighbors – almost 63% of Nextdoor members have a pet in their household, and over one hundred thousand posts on Nextdoor each month are related to pets. If you run a business in the pet services industry, from dog walking to veterinary services, you want to make sure you're part of those conversations on Nextdoor.
Read on for 3 local marketing tips for your pet services business on Nextdoor:
Create your free Business Page to spread the word.

If you haven't created a Business Page on Nextdoor, you're missing out on the word-of-mouth marketing benefits that come from being part of all of those pet-related conversations on Nextdoor.
Once you've created your Business Page, upload high-quality photos that represent your business. Are you a dog walker? Share photos of your brood of pups. Are you a veterinarian? Share photos of you and your staff with some of your beloved patients. Do you sell pet products? Showcase the breadth of products you carry. Photos help build trust among potential clients and customers – and Business Pages with photos see a 61% increase in engagement. Check out more Business Page tips.
2. Gather recommendations from delighted clients or customers.
Recommendations from the people who have made use of your services are powerful – it's word-of-mouth marketing at its best. And it's free. By having a Business Page, you've created a place for members to leave recommendations endorsing your business. 82% of consumers read online reviews for local businesses, so make sure neighbors can find what they're looking for on your Business Page.
When you've had a positive experience with a client or customer, make sure to ask them to leave a recommendation on your Business Page. If you have an email newsletter or correspond by email with your clients, include a link to your Business Page in the email footer so they can easily find you.
3. Run a Local Deal to get new customers.
In a recent study, more than ⅓ of Nextdoor members reported that they are willing to pay more for something at their local pet store than a big box retailer. Your local business may be just what neighbors are looking for. Whether you're a Neighbor for Hire who pet sits on weekends or you run a professional dog obedience school, Local Deals can help you reach the customers you want to work with, those closest to your business.
Running a Local Deal can attract new clients, help fill gaps in your schedule, spread the word about your new service or product offerings, and more.
See how two pet services businesses have used Local Deals to reach their local customers: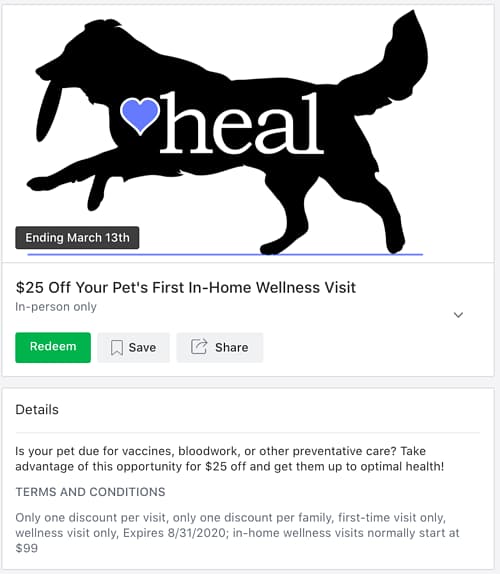 This traveling veterinarian promoted a $25 off deal to first-time customers.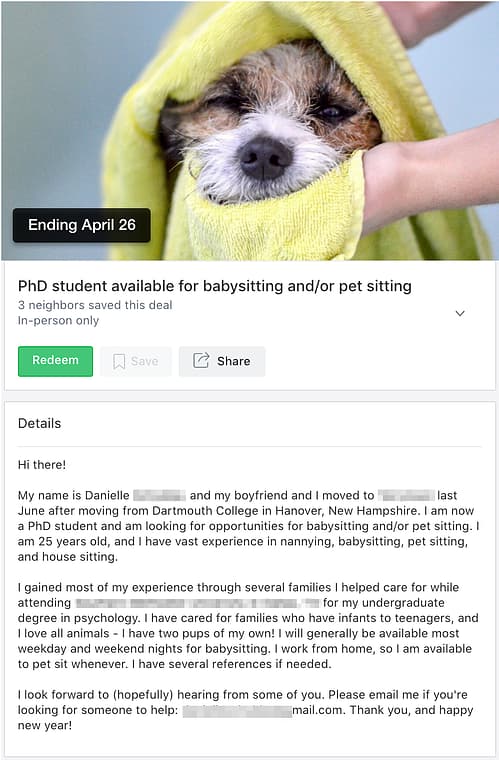 This Neighbor for Hire detailed her background and experience that qualify her to be a top-notch pet sitter.

Start marketing your local pet services business by creating your free Business Page.